Introducing Postcards for Slack
We are incredibly excited to announce Postcards for Slack – a world class way to send and receive SMS and MMS using your favorite chat app.
Free, and Multi Tenant
Postcards for Slack is a free application (SMS/MMS usage still applies), and is designed to work with multiple Slack Workspaces. This means you can have multiple phone numbers associated with multiple Slack accounts to accomodate the needs of your end users.
Channel Based Messaging
Postcards for Slack creates a new Slack Channel with your Skyetel phone number, and every new SMS/SMS participant you correspond with will be inside their own thread. Multiple users can join these channels, and correspond with multiple threads. This allows many members of the same company to be able to correspond with potential customers.
Private Channel Support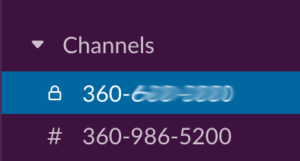 Do you want to give your team members the ability to SMS/MMS on their own phone number privately? Not a problem – Postcards for Slack allows you to create private channels so that only designated team members can SMS/MMS on a company number.
Learn More
You can read all about Postcards for Slack here