Today I am proud to show off our new look and feel! Skyetel has officially gotten a facelift and a new website. Our new logo, color pallet and website are designed to be as colorful as possible while still maintaining the friendliness of our old website.
I thought it would be fun to dust off the history of Skyetel's logos and showcase them in this blog post.
Our first logo was created in 2014, the same year that we started the company. We really liked the philosophy of "Cloud" and "Speech" as the thematic elements to our design. SKYE and BLUE were prominently featured because they were symmetrical, and were the core of the name of the company "SkyeBlue Communications." We weren't terribly creative with the color pallet choice though.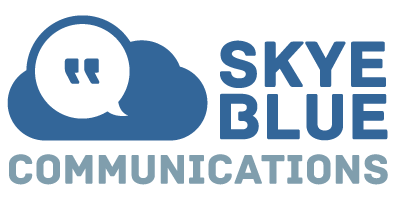 In 2016, we decided it was time to have our logo updated to be a tad more modern. We still liked the idea of "Cloud" and "Speech" but our focus began to shift more toward focusing on our network as a core part of our design. Additionally, we wanted our new logo to be feel "old world" and customer service oriented. So, we chose the idea of an old-world radio tower surrounded by the name of the company.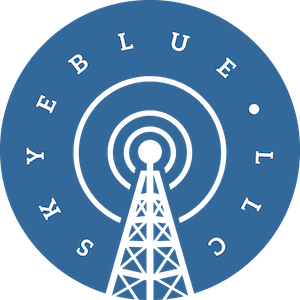 The same year – 2016 – we decided to change our name from SkyeBlue to Skyetel. We won't go into why on this blog post, but you can probably figure it out by Googling "Skye Blue." :P. So, our next logo simply swapped out the old name and put in the new one. We also wanted to liven up our color palette with this update – so this is where we introduced the blue that we all know and love.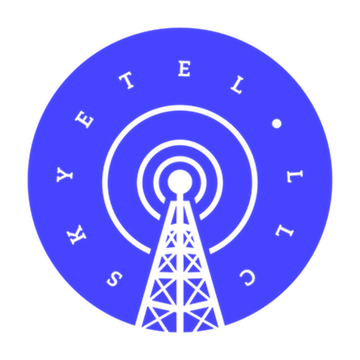 Today we are proud to showcase our newest design. This iteration of our logo accomplishes two goals. First, it keeps our logo friendly and approachable. Second, it shifts the aspect ratio from being a square, to being a rectangle. We realized that our portal and internal tools would look much better with a horizontal rectangular layout rather than the old square logo.
Perhaps the most difficult decision we've ever had to make with any of our design was the choice of font. We think we nailed it. The Skyetel font is both playful and bold, while still very easy to read. We especially like how the corner of the "y" nearly touches the corner of the "k."